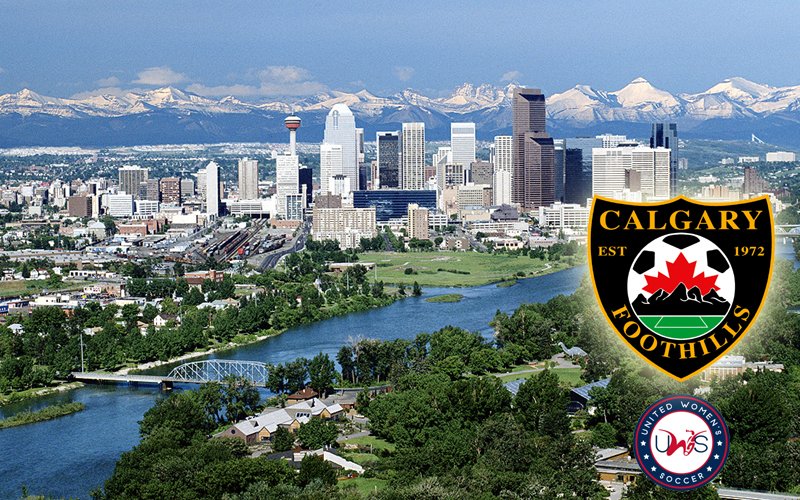 @FoothillsWFC #UWSsoccer
Press Release: Foothills FC Brings Canada's Highest Level of Female Club Soccer to Calgary
For immediate release – February 14, 2017
Calgary, AB – Calgary Foothills FC is excited to announce that it will be competing in the United Women's Soccer (UWS) league for the 2017 outdoor season. The team will be playing at the highest league level of any female team in Canada currently. This provides elite soccer development and training to the female players in Calgary and area. This initiative was part of the mandate of Foothills FC to provide Calgary players further high level opportunity as has been illustrated by the Foothills Men's PDL team which were the division and conference champions in 2016.
After the sudden collapse of the W League in 2015, the Foothills FC Women's' Football Club, ("Foothills WFC") were left without a league to compete. But almost as quickly as the W League fell, a new league was created, the UWS. The UWS (uwssoccer.com) strives to offer the very same standards based Spring/Summer league that the W League previously offered. The group is comprised of some of the former W League elite franchises in addition to several top former Women's Premier Soccer League (WPSL) franchises. As a result of approval and sanctioning from the United States Adult Soccer Association, UWS occupies the second-tier status in the U.S. under the fully-professional National Women's Soccer League (NWSL). Foothills WFC is the only team in Canada to currently be accepted to the league, which is the highest level of Club soccer of any Canadian team.
Foothills WFC is led by head coach Troye Flannery. Coach Flannery previously coached youth teams to National Gold medals, coached the Calgary Storm Player Development League (PDL) team, assisted the Mariners PDL team in Abbotsford and is currently the head coach of the University of Calgary Women's Soccer team. Coach Flannery is employed by Calgary Foothills Youth Club as the Girls Technical Director.
Coach Flannery states that "Bringing this high-level of female soccer to Calgary has been a long journey that I am very pleased is moving forward. We wanted a standards based Spring/Summer league that will allow our players to maximize their development. An extension enabling motivated young adult female players to continue their development and training for post-secondary teams during the Summer months as well as for professional and other opportunities. We have found this in the UWS and could not be more excited - we are ready to endear our supporters with an incredible Summer 2017."
Foothills WFC is supported by the Calgary Foothills Youth Club which has a strong youth program including back to back Canadian National Champions in their 2001 born girls and then the 2002 born girls. Foothills Youth Club also has Canadian International players Mya Jones and Sarah Kinzner. The UWS provides a Club pathway for all Women of Calgary to follow past their youth Academy programs.
Joe Ferrara, League Director UWS stated that "We are excited to have Calgary join UWS. In all my years as an administrator, I have seen many business plans and none have been more impressive than the one submitted by Foothills. With its PDL men's side, the organization has demonstrated that it is a professional operation on and off the field. Calgary Foothills will have the same positive impact on women's soccer in North America."
The UWS has had numerous international players play in its ranks, and has already graduated players to the NWSL. Four players from UWS teams (Morgan Andrews, Nickolette Driesse, Darian Jenkins and Michele Vasconcelos) were selected in the NWSL 2017 Pro Player Draft. Crystal Dunn, a member of the United States National team, played with the Long Island Roughriders of UWS and Canadian National Team goalkeeper, Stephanie Labbe, spent several seasons between the pipes for the New England Mutiny.
The league is set to commence with an Eastern Conference comprised of Lancaster, Long Island, New England, two teams from New Jersey, New York and possibly Laval and Quebec subject to CSA approval. The newly formed Midwest Conference feature teams form Michigan (Detroit, Grand Rapids and Lansing), Indiana (South Bend, Fort Wayne and Indianapolis) and Toledo, Ohio. The Western Conference, which Foothills WFC will compete, features Real Salt Lake, Houston Aces, Colorado Storm, Colorado Pride and Santa Clarita Blue Heat.
The franchise has been approved by the UWS, and sanctioned by Alberta Soccer, Canada Soccer Association and U.S. Soccer Federation.
About Calgary Foothills FC: Calgary Foothills FC has a mandate to bring professional soccer to Calgary for both Men's Soccer (PDL) and Women's Soccer. Foothills FC is supported by Calgary Foothills Soccer Club which has achieved success at Provincial, National and International levels to provide a solid foundation for the franchise. Foothills FC believes that Calgary is a world class city and that the youth of Calgary deserve to have professional opportunities for advancement.
About United Women's Soccer (UWS): UWS is a national women's soccer league sanctioned by U.S. Soccer through the United States Adult Soccer Association (USASA). UWS is a professionally operated league created for teams that meet high minimum standards. The season runs from May until the end of July, culminating in a National Championship match. The UWS player pool is comprised of college players, aspiring & former professionals and international stars.
For additional information please contact:
Troye Flannery, Foothills WFC Coach (403) 827-3000, troye@calgaryfoothillssoccer.com
Calgary Foothills Soccer Club 104, 3916 56th Ave SE Office: (403) 225-9388 julia@calgaryfoothillssoccer.com